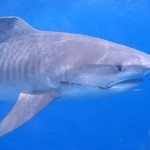 DAUPHIN ISLAND (USA)- Not just marine animals but also woodpeckers, swallows, tanagers, meadowlarks and other land birds are found in the stomachs of tiger sharks in the Gulf of Mexico. Could Gulf of Mexico oil platforms be turning migratory birds into shark snacks? That's what a nonprofit bird conservation group is suggesting.
A new study into the diets of Gulf tiger sharks found the scavengers are not only feeding on marine animals but also land-based birds.How does a land bird end up in the water as food for sharks? That's what the researchers of the Dauphin Island Sea Lab in the state of Alabama ask themselves. It was an unexpected find they say.
Bird migrations across the Gulf are incredibly strenuous treks that result in large numbers of bird deaths over water from exhaustion, but there may be other factors at play here, according to the scientists.
Scientists with the American Bird Conservancy believe there may be a connection between the birds in the bellies of tiger sharks and offshore oil rigs, which can draw birds migrating across the Gulf of Mexico between North and South America.
Studies have shown that hundreds of thousands of birds die from oil-and-gas platform lighting problems in the Gulf every year. These birds are in the middle of epic migrations across the Gulf of Mexico that already test their ability to survive. Many die along the way.
Particularly on cloudy nights, birds can confuse the lights on oil platforms and rigs with the stars they use to navigate. Once they reach the platforms, the birds can become trapped, reluctant or unable to leave and fly into darkness.
Read more at the Daily Comet
Read more: http://www.smh.com.au/environment/animals/great-white-sharks-force-100-swimmers-from-the-water-20120112-1pw09.html#ixzz1jBYRrAJt