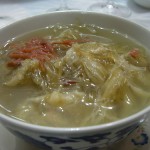 TAIPEI (TAIWAN)- Big luxury major hotels in Taiwan have no plans to follow Peninsula Hotels in dropping shark fin soup from their menu. The prestigious Hong Kong hotel chain last monday announced it would stop serving shark fin.
Major five-star hotels in Taiwan, including the Regent Taipei and L'Hotel de Chine Group, said accoring to the Taipei Times that although they recognized global efforts to protect the threatened predators, there were no plans to change the way they do business in the near future.
Under huge pressure from environmental groups to stop shark finning — cutting the fins off sharks and throwing the animals back into the sea to die — Peninsula -Hotels said that it would take shark fin off its menus starting in January.
However, because shark fin soup is considered a delicacy, luxury hotels in Taiwan have no plans to drop the dish from their menus. The requieremenst of the clients are above all, accoring to a spokesman of the Regent in Taipei. A survey conducted by the society earlier this year found that 71 out of 76 major hotels in Taiwan offer shark fin soup, which is popular in other parts of East Asia.Taiwan is one of the world's top producers and consumers of shark fin. It is estimated that Taiwanese have consumed about 3,000 tonnes of shark fin in the past five years.
Taiwanese hotels' decision not to drop shark fin comes despite increasing consumer demand, especially from young couples, that the hotels use aqua-cultured abalone or tilapia instead of shark fin in wedding banquets.
A local animal welfare group said that although most of the hotels do not actively encourage customers to order shark fin, they should take more responsibility for changing consumer habits by following the Peninsula Hotels group's lead.