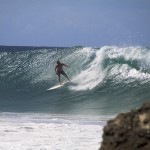 NOBBY BEACH (AUSTRALIA)- A young Australian surfer off Nobby Beach on the Gold Coast experienced every surfer's worst nightmare scenario. On march 20th he was surfing, trying a new trick, and fell off his board. Right on a large shark that was swimming under him.
The startled predator did what any shark would do – it bit back, latching on to Mr O'Leary's left leg and shaking him violently before swimming off. With big bite wounds in his left leg, the surfer was taken out of the water and to the hospital. The surfer was lucky not to have lost his leg, doctors say.
Read more and see the photos of the wounds at the Daily Telegraph.