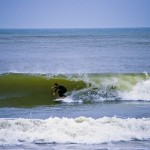 SEASIDE COVE (USA)- Emergency crews responded to the Seaside Cove on the coast of the state of Oregon tuesday morning following a report of a female surfer bitten by a shark. Officials confirm in the local newspaper Seaside Signal it was 'some kind of marine animal attack'.
Other surfers in the ocean at the time of the incident said they heard a large splash, spotted a dorsal fin and saw the female surfer in distress in the water. At least two surfers came to the aid of the woman and brought her to shore. Another surfer brought in the women's surfboard with what looked like puncture marks that could have been made by a shark bite.
An emergency medical team placed the woman on a stretcher and carried her to a waiting ambulance. She was taken to Seaside Providence Hospital for treatment. The extent of her injuries is unknown. Her surfboard had puncture marks in it that could have been the result of a shark bite, reported the Seaside Signal.
The Seaside Cove is a popular surfing spot along the Oregon coast. There have been reports of sharks in the area.
"These incidents are rare, but they do happen."Keith Chandler at the Seaside Aquarium told the Seaside Signal. "But it's more dangerous to drive on icy roads. You have to drive on the icy roads. You don't have to surf in the ocean."