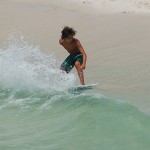 VERO BEACH (USA)- A 21 year old surfer was bitten Tuesday on his arm while he was surfing at Sebastian Inlet State Park off the coast of Florida, USA. 
The man was paddling over a deep trough roughly 25 yards offshore when the shark, estimated to be up to five feet long, swam up beneath his board and bit his arm.
Stitches
The surfer was able to get to his vehicle and start driving toward a fire station. He also called 911 on the way. Paramedics treated the man's wound and took him to a nearby hospital. Officials say the man's wound was not life-threatening. He was treated for three cuts and received 18 stitches.
Shark sightings
Lifeguards and rangers at Sebastian inlet have not had any shark sightings in several weeks.  The last reported shark bite in the area was Sept. 4 in Brevard County, when a man had wounds on his hand after being nipped in Melbourne Beach,.
Incidents
With this latest incident, at least 46 people have been injured by sharks so far this year around the world, according to the International Shark Attack File, which tracks world shark-related incidents. At least 27 of those were injured in the United States.
There have been several deadly shark attacks this year in the Indian Ocean region. One surfer was ripped apart and carried away by a shark off the Australia coast in their fifth deadly shark attack in less than a year.