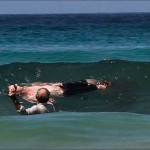 PORT ST. JOHNS (SOUTH AFRICA)-Neither effluent from local buildings and settlements nor a whale carcass buried on the beach a decade ago is likely to be a factor in the high number of attacks in South African waters the past years.
Environmental Affairs Minister Edna Molewa revealed there had been 39 shark attacks in SA waters between 2006 and 2011 – 15 each in the Western Cape and Eastern Cape (including the Port St Johns incidents) and nine in KwaZulu-Natal. A study is under way into the high number of shark attacks at Port St Johns on the Transkei coast – six since January 2006.
Molewas confirmed that her department was talking to both the municipality and Kwazulu-Natal Sharks Board about possible reasons for the attacks at Port St Johns.
Effluent discharge could not be directly linked to any of these attacks, and nor could the whale carcass that had been buried on the beach about 10 years ago after "significant" amounts of blubber and flesh had been removed from it. Given that the attacks only started in 2007, five years ago, it's unlikely that the whale stranding incident can be correlated with the shark attacks, said the minister.
About 38 different shark species have been recorded in False Bay, where attacks took place, over the past 150 years. About five of those species had shown troubling signs of declining numbers.
Read more at IOL News