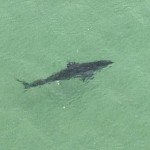 HAWKS NEST (AUSTRALIA)-Swimmers at the beach at Hawks Nest were rushed out of the water when not one, but three great white sharks were spotted not far from board riders and swimmers.
'Pretty close'
The alarm was raised by crew aboard the Westpac Rescue Helicopter who spotted the three-metre sharks about 11.20am in the calm, clear water off Bennetts beach. Crew chief Pete Cummings said one was "pretty close" behind a group of surfers, the same distance from shore as nearby swimmers. About hundred people were in the water when the sharks were spotted.
The sharks didn't look like they were chasing fish, they were just cruising, according to Cummings. Earlier in the week ive sharks were spotted chasing fish along the shoreline less than 12 hours after a surfer was attacked.
The sharks, including two about four metres long, were spotted close to where the surfer was bitten on the arm during a twilight surf at North Avoca Beach. Shark populations along the Hunter and Central Coast have been tipped to boom due to nutrient-rich water, plentiful baitfish and warmer currents.
Read more at the Sydney Morning Herald