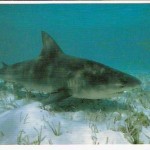 REUNION ISLAND (France)- The summer of 2012 turned out to be a summer of shark attacks with attacks in the shallow waters off Reunion Island, the U.S New England coast and off Western Australia. The governments are considering taking the protection of these 'man-eaters'.
In Reunion Island, the French department in the Indian Ocean the number of shark attacks have grown. Last week a 22-year-old surfer died after a bull shark bit off his leg. It is the seventh shark attack since January 2011 and the third fatality this year. It have prompted the government to consider allowing fishermen to go after sharks.
Fished
The attack provoked a protest by 300 surfers who demonstrated outside the town hall demanding that sharks be fished.  Thierry Robert MP, mayor of St Leu commune, reacted by offering to pay fishermen to catch bull sharks.
But the French minister for Overseas Territories, Victorin Lurel, later revoked the decision, saying that the species are protected and so killing them would be breaking French law.
Bull sharks
Environmental groups would like to see more research commissioned by the authorities into why the bull sharks have turned on people.
Lamya Essemlali, of the ocean conservation group Sea Shepherd France, told RFI "the government should focus more on finding out why the sharks are attacking in the first place."
Bull sharks live in shallow warm waters where they play a critical element of the marine ecosystem. In these shallow waters they meet humans. Therefore bull sharks are responsible for the majority of shark attacks on humans.  But killing them off would impoverish the whole ecosystem says Sea Shepherd.
Great whites
Also Australia is considering changing its laws for the protection of the endangered great whites, who have been responsible for fatal attacks on surfers off the west coast. I\
It feels a bit like going back in time, when Jaws spooked the world of entering the water.
Read more at