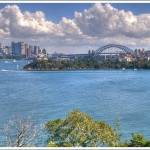 SYDNEY (AUSTRALIA)- Shark attack victim Paul de Gelder is the epitome of courage but, like anyone who has suffered a life-changing setback, he reached a point which could have seen him go one of two ways. 
The Royal Australian Navy diver lost his hand and lower leg when he was mauled by a shark during an anti-terrorism exercise in Sydney Harbour in 2009.
Read more about Paul de Gelder at the Sydney Morning Herald.