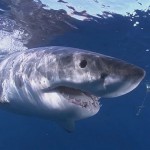 AUCKLAND (NEW ZEALAND)- Grim, the tagged New Zealand Great White  is returning home after an epic journey through the tropical waters of Fiji, Tonga and Niue. Researchers of the Department of Conservation have been tracking him for more than twelve months. 
'Grim' is the first shark being tagged for so lang. The researchers tagged him at Stewart Island in March last year and that year he travelled to Fiji on his tropical migration. Nicknamed Grim, the 3m juvenile slipped off the radar for four months, then began transmitting again near Tonga.
Earlier this month a long-awaited signal from Grim earlier this month was caught. He was over the Louisville Seamount chain, northeast of New Zealand, so he's on his way home again, say the enthousiastic researchers, who believe the shark, about 9 years old, was some way off raising a family. Grim is expected to stop at Auckland, but is likely heading back to Stewart Island.