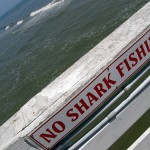 PUNTARENAS (COSTA RICA)- Good work by the National Coast Guard Service of Costa Ric. Earlier this week officers boarded a fishing vessel off the Pacific coast and arrested three individuals suspected of shark fin poaching.
According to an official press release issued by Sergio Lopez Murillo of the Ministry of Public Safety, 58 shark fins were confiscated and will serve as evidence against the three men who will be charged with violations of the Fishing Law in Costa Rica.
Drug traficking
The Coast Guard patrol boat Juan Mora (SNG 82-3) was on patrol about 10 nautical miles southeast of Punta Baco, near Golfito in the province of Puntarenas. The crew of the Juan Mora was specifically looking for drug trafficking activity and irresponsible fishing when they came across the Fishing Vessel Elizabeth X. The crew of the FV Elizabeth X consisted of three individuals who did not have any objection to the Coast Guard's request to board.
Shark fins
During the boarding operation, the Coast Guard officers found a suspicious sack in one of the coolers aboard. Upon closer inspection, they found 58 shark fins mixed in with other aquatic species. The fins had been hacked off, and there were no sharks to be found aboard the FV Elizabeth X.
Prison
Since there were no sharks or even shark parts to be found, the three suspects were arrested on suspicion of violating Law Number 8346. Article 139 of the law provides sentences between six months and two years in prison, as well as monetary penalties equivalent to about 5 to 15 median salaries.
The FV Elizabeth X and her crew were detained and escorted to the Coast Guard Station in Golfito, where prosecutors awaited their arrival.