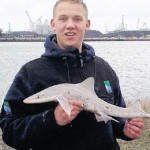 ROTTERDAM (THE NETHERLANDS)- Holland is not exactly reknown for having lots of sharks in its coastal waters. This last summer there were exceptionally large numbers of houndsharks (mustelus mustelus). Last sunday one was even caught in the busy industrial harbor of Rotterdam.
17-year old Jasper Voogt from the town of Vierpolders was fishing in the Mississippi Harbor close to the Maasvlakte where he suddenly had a remarkable fish at the end of his pole: a young common smooth-hound. Dutch shark expert Niels Brevé told the national newspaper AD that this species of shark is normally caught off the coast of Wales. Last summer it was spotted off the Dutch coast for the first time. A catch like this so late in the season is unique.
More about the Common smooth-hound shark.