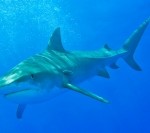 DUNSBOROUGH (AUSTRALIA)- Closed beaches and choppers in the air after two divers were charged by a great white in Western Australia. The sighting of sharks in the state leads to big caution in this part of Australia after the recent fatal attacks. 
The two divers escaped unharmed. The divers were at Three Mile Reef, more than 5km off Ocean Reef, when the 3.5m shark charged them before circling the pair at "close range" for a short time. The pair took cover under a reef ledge before surfacing about 2pm.
Cautious
Surf lifesavers and Department of Fisheries have been unable to locate the shark, but have warned people in the area remain cautious. Meanwhile, surf lifesavers evacuated beaches at Dunsborough after a 3.5m shark was sighted off Eagle Bay this afternoon. The shark was spotted by an aerial helicopter patrol about 50m offshore at 2pm and beachgoers were immediately cleared from the water. What species it was, remains uncertain, according to Surf Life Saving WA.
Hammerhead
A smaller hammerhead shark, about 1.5m long, was also sighted from the air today, along with up to 100 dolphins. The sharks was spotted by Surf Life Saving WA's new South West helicopter service, which started partrolling this weekend. The chopper provides provide seven-day-a-week aerial surveillance between Bunbury and Margaret River, with crews patrolling the coast to keep watch for distressed swimmers, rip currents, sharks and marine life and other medical emergencies.
It comes after the State Government provided extra funding to expand services in the South West after the three fatal shark attacks in Western Australia in recent months.
Read more at Perth Now