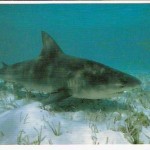 PORT ST. JOHNS (SOUTH AFRICA)- Swimming off Second Beach at Port St Johns may be over for this summer season in the South African town. The fatal shark attack last weekend on 25-year-old Ngidi Msungubana probably leads to closing of the beaches.
Same spot, different year
It was the sixth fatal attack at Port St. Johns in as many years, with another surfer, Zama Ndamase, 16, being killed by a shark in almost the same spot on January 15 last year.
Town council
On Thursday a spokeswoman for the Port St Johns Municipality, Nonceba Madikizela, confirmed in the local newspaper Saturday Star that a special council meeting has been scheduled for next Wednesday, when it will be decided whether to ban swimming off the town's main beach, described by international media as one of "the world's deadliest beaches".
In the meanwhile, swimming off the beach has been stopped and the public have been warned not to swim there.
Zambezi Shark
The attack took place on Sunday afternoon in what was described as "warm and murky water". The culprit was as Zambezi Shark, like bull sharks are called in this part of the world. About 100 bathers were in the water at the time.
According to witnesses, Msungubana tried to fight off the predator, as panic-stricken swimmers scrambled to safety in a horrifying Jaws scenario.
KwaZulu-Natal Sharks Board officials were in Port St Johns on Wednesday to investigate the attack.
There has been much speculation over the reasons for the spate of shark attacks. These range from the blood from animal sacrifices made by traditional healers on the beach, to loud music, a poor sewerage system and even a curse on surfers and lifesavers.
Read more with the Saturday Star.