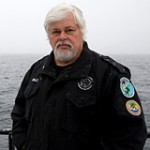 FRANKFURT (GERMANY)- Head of the Sea Shepherd Conservation Group Paul Watson was arrested in Germany on a warrant from Costa Rica for extradition to the central American country by German police. He was allegedly involved in a murder attempt while he and his crew were chasing a ship of Costa Rican illegal shark fishers. The incident is shown in the documentary film Sharkwater.
The arrest comes as Sea Shepherd launches is new campaign against shark finning.
The basic incident took place on the high seas and Sea Shepherd encounted an illegal shark finning operation run by a Costa Rican ship the Varadero in 2002. Ship crew say that this was more to do with thousands and thousands of kilos of dried shark fins that were uncovered by Sea Shepherd as an illegal operation in Costa Rica back in that year.
Watson is expected to be freed from custody in Germany later today or early tomorrow morning, a spokesman for the group has said.
One of the group's head captains Locky Maclean said Captain Watson had been arrested on an out of date warrant over an incident dating back to 2002.
Captain Watson is being held in custody at Frankfurt Airport after being arrested while transiting through Germany.
He is understood to be being treated well and has been able to make occasional phone calls to supporters.
A vegan meal has also been supplied to the committed environmentalist who eats no animal products.
Read more at The West Australian