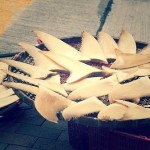 HONG KONG (CHINA)- Author Lilling Tan of International Business Times loves shark fin soup but also cares a lot about sharks. She wrote a great piece of opinion.
She says: 'For me, that morsel of fin braised in herb-infused stock is truly a complex and sublime gastronomic experience, even if its merits are lost on much of the western world, including Gordon Ramsay, who was seen poo-pooing the taste of shark fins in his recent — and very compelling — documentary about the shark fin trade.
But then, it isn't about how much I like the taste of the dish or how much Ramsay despises it. It's about how many people around the world continue to dine on shark fins, actively and viciously depleting the population of a predator that we've made into prey. It's about the sacrifices we — the shark fin soup lovers — need to make to protect the balance of the seas and, in turn, our own survival.
The concept is neither abstract nor exclusively western. It is, in fact, based on a very Chinese tenet that we should sacrifice now in order to enjoy rewards later, and perhaps it should be embraced as such.'
Read the full opinion of Lilling Tan at International Business Times.