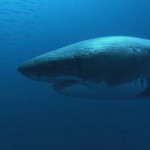 CHATHAM (USA)- Scientists and fishermen worked together aboard the Ocearch, a repurposed crabbing vessel to tag their first great white shark off the eastern coast of the US state of Massachusetts. The shark, more than 2,000 pounds and nearly 15 feet long, was tagged and released. The method they use is new.
Ocearch is a nonprofit research organization named for a combination of "ocean" and "research," is crewed mainly by sport fishermen. It is funded by sponsors and donors, and a South Africa expedition was the subject of History channel's "Shark Wranglers."
The Ocearch crew tags great white sharks in an unorthodox way. Unlike the state shark experts, who have tagged a dozen great whites off the Massachusetts coast with harpoons, the Ocearch crew baits the fish and leads them onto a large platform that lifts them out of the water for tagging and collecting blood, tissue and semen samples.
Ocearch's real-time satellite tags last five years. Each time sharks' dorsal fins breaks the surface, the tags ping a satellite and mark an online map, accessible to researchers and the public.
The work is dangerous for both man and fish. One shark died on the lift in South Africa. The crew tries to return sharks to the water within 15 minutes.
Great whites off Cape Cod have lately seen a lot of publicity. After an attack last summer and a lot of sightings the great white has almost turned into a tourist attraction of the already very popular region.
It is estimated that about 30 great whites roam the Cape Cod coast on any given day. The Ocearch crew hopes to tag five.
See a video of the tagging at the Huffington Post.