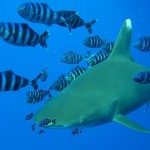 AUCKLAND (NEW ZEALAND)-  From early next year, the deliberate catching of oceanic whitetip sharks will become illegal in New Zealand waters, the government announced Thursday.
Whitetip sharks are to get the same protected status under New Zealand's 1953 Wildlife Act as the great white shark and basking shark.
According to Conservation Minister Kate Wilkinson international research showed the species  facing high risk of extinction."Shark species like whitetips are now being recognised and protected as an important part of our marine ecosystems," Wilkinson said in a statement.
"New Zealand and the international community are taking steps to protect the future of these magnificent animals."