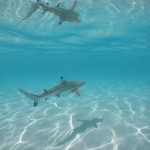 TAIPEI (TAIWAN) –For one year long The Society of Wilderness tested sharks in the waters around Taiwan. Conclusion: nearly 60 percent of the sharks in the waters around the island are listed as threatened species by the international community.
The group therefore calls for intensified efforts to conserve sharks and said the Fisheries Agency of Taiwan should further control the species on the list and set a limit on the total catch of sharks.
The Society of Wilderness said that in a one-year shark DNA test it worked on with Allen Chao-lun Chen from Academia Sinica's Biodiversity Research Center, 960 shark samples from around Taiwan were collected, and 56 percent of them were found on the IUCN Red List of Threatened Species.
Democratic Progressive Party lawmaker Yao Wen-chih asked the Fisheries Agency to conduct random DNA tests on sharks annually and publish the volume of shark catches at fishing ports around Taiwan.
He also urged the Fisheries Agency to invest in upgrading the technology used to fish for sharks to help polish Taiwan's conservation image.