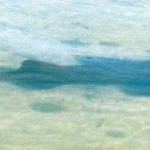 JACKSONVILLE BEACH (USA)- Tropical storm Beryl left behind plenty of downed trees and flooded streets, but also a lot of sharks in the offshore waters off the eastern central coast of the US state of Florida. Surfers in central Florida say they have seen an increase in the number of sharks in the water. "Bunch of sharks everywhere."  "There's just a bunch of sharks bumping into you, like everywhere."
The increased sightings even forced some beaches in Brevard County to close. As of right now, lifeguards say there have been no sightings at Jacksonville Beach, but there have been some to the south. Surfers say they saw an uptick in the number sharks in the ocean over the weekend.
Experts warn tropical weather can stir up sharks' typical behavior. Sharks move in advance of any changes in rainfall or in wind speed, and the conventional wisdom is that the sharks are able to sense measures in the biometric pressure.
Experts say the speed of the storm and the overall pressure determines how the sharks move. Beryl came through the coastline pretty quickly and may not have stirred the pressure up enough for a large number of sharks to migrate close to shore, Gelsleichter said. Regardless, this is the time of year shark activity is the greatest, he said.
Last week basketball star Chad Renfro, who plays with Barry University, was bitten on his foot while surfing at Jacksonville Beach. He got 85 stitches."This is the time where we do have to exercise caution in the water," so Florida experts say.
Hardcore surfers say they aren't letting the predator fish keep them out of the water.
See the video at local station News4Jax.com.