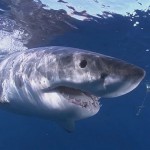 MIAMI (USA)- 2011 saw a two-decade record as twelve people were killed worldwide by sharks. Seventy-five attacks occurred worldwide, close to the decade average, but the number of fatalities doubled compared with 2010. 
None of the deadly attacks occurred in the United States, which saw a five-year downturn in the number of reported unprovoked shark attacks, so the report says of the International Shark Attack File housed at the Florida Museum of Natural History at the University of Florida.
There were a number of fatalities in essentially out-of the way places, where there's not the same quantity and quality of medical attention readily available.
Despite the increased number of deaths last year, humans still pose a much greater risk to sharks than sharks do to human. We're killing 30 to 70 million sharks per year in fisheries  so who's killing who?
Australia had three shark attack fatalities and there were two each in Reunion, the Seychelles and South Africa, and one each in Costa Rica, Kenya and New Caledonia.
The average global fatality rate for the last decade was just under 7 percent, and it rose to 16 percent last year. Excluding the United States, which had 29 shark attacks but no deaths, the international fatality rate averaged 25 percent in 2011.
Other countries with multiple non-fatal attacks included Australia with 11, South Africa with five and Reunion with four. Indonesia, Mexico and Russia had three each, and the Seychelles and Brazil had two each.
While the higher number of fatalities worldwide came as a surprise, the drop in the number of U.S. attacks follows a 10-year decline. With its long coastline and year-round aquatic recreation climate, Florida historically leads the United States in shark attacks, and last year was no exception. The state had 11 of the 29 U.S. attacks.
Six of them occurred in Volusia County on the state's central Atlantic coast, a popular surfing area, but that was the lowest number there since 2004, when there were three.
Surfers were the most affected group, accounting for about 60 percent of unprovoked attacks, largely due to the nature of the activity. Swimmers experienced 35 percent of attacks, followed by divers with about 5 percent.
Humans are not part of the sharks' preferred diet, but those splashing around on the water's surface can be mistaken for normal shark prey such as fish, turtles or seals. Burgess also pointed out that humans in wetsuits can be mistaken for seals by the sharks.
Read more at Reuters
Want to know more about cool things to do in Brazil? Read the Jenreviews.