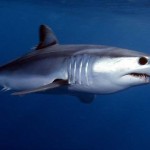 WHALE ISLAND (NEW ZEALAND)- The search for the lost containers from the ship Rena which struck a reef on october 5th is stalled because of the damage done on the sonar equipment. Fingers point at mako sharks as being culprits.
The world's fastest shark, with an aggressive streak and an appetite for almost anything, is blamed for the damage. Maritime New Zealand said the Braemar Howells recovery team was not able to do any work as a result of the damage. The sharks may have been attracted to the warmer water near Astrolabe Reef, say shark experts.
It would not be out of the ordinary for them to be attacking a `sonar fish', because that's what the equipment would have looked like to these sharks. Because of the sonar gear's elongated shape and propeller, the sharks could have mistaken it for a large fish. Mako sharks are known to feed on fish that are larger than themselves, including swordfish and even other sharks. Although described as "aggressive" mako sharks are not known to attack humans.
The growing numbers of kahawai and small fish in the area were also attracting mako and other shark species. The recovery team will survey Whale Island and a helicopter will today fly to Motiti Island to inspect beaches for container debris, Maritime New Zealand said.
Over the weekend, 17 containers were taken off Rena, taking the total removed by salvors to 227. When Rena struck the reef off the coast of Tauranga on October 5, 1368 containers were on board. A container with meat products inside fell off on Sunday and was recovered, taking the total number washed overboard to 89.
Mako sharks can swim at speeds of 90kmh when hunting, making them the fastest of all shark species in the world. Sometimes they can leap out of the water. Makos feed primarily on tuna and swordfish, but will eat nearly anything.But not people.
Read more at Otago Daily Times
Watch this cool video of a mako shark in action, 'the cheetah of the ocean..'