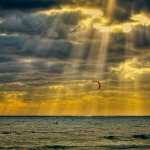 PLAYALINDA BEACH (USA)-  A 19-year old kitesurfer was bitten by a shark while kitesurfing with friends off Playalinda Beach in northern Brevard County, Florida. He is described as Florida's 1st shark victim of the season.
He suffered minor injuries. Brevard County Fire Rescue paramedics responded to the beach at 1:15 p.m. and
found the 19-year-old male patient with wounds to the left foot. Paramedics report that the teen was in good spirits and being attended by National Seashores staff members.
While kitesurfing his foot entered the water. He felt a sudden pain. It is still unclear whether the shark bit the victim or if his injuries were caused by some other part of the animal. The victim, whose name is not available, was transported in stable condition to Parrish Medical Center in Titusville for further evaluation and treatment.
As reported by Brevard Times the last few days in its Cocoa Beach Surf and Fishing Report, small sharks have been taking anglers' bait more often while surf fishing.
According to the International Shark Attack File maintained by the Florida Museum of Natural History, Brevard County has had 101 attacks from 1882 to 2010. Only one of the attacks were fatal, which occurred in 1934.