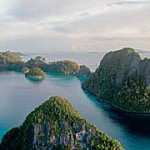 JAKARTA (INDONESIA)- Local and regional authorities in Indonesia last week caught 33 poachers who had taken sharks, manta rays and sea cucumbers from a protected marine area that scientists have identified as one of the sea's most important sites. But after confiscating their illegal catch and gear, the patrol officers had to let them go.
Frustrated
The incident left conservationists and villagers frustrated, and it underscored one of the biggest challenges in protecting the ocean: Setting aside swaths of the sea from fishing works only when there's adequate enforcement.
Poaching
Residents in several parts of the Bird's Head Seascape — a series of marine protected areas in Indonesian waters — agreed in 2005 to cut back on fishing to rebuild depleted fish stocks. The poaching took place in the Kawe Marine Protected Area, part of the seascape, which forbids fishing in 97 percent of its waters and ranks as Southeast Asia's largest no-take reserve.
The villagers "are capable of managing their local resources," said Ketut Sarjana Putra, executive director of the advocacy group Conservation International in Indonesia, but "they don't have enough capacity to do very good enforcement and patrol."
Read more at the Post Gazette