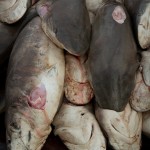 HONG KONG (CHINA)-Luxury hotel chain Shangri-La announced yesterday it will stop serving shark fin soup  at its 72 hotels worldwide. The campaign to protect the marine predators is finally gaining some ground among Chinese consumers.
Not only will the Hong Kong-based group cease serving shark fin in all of its restaurants, it also announced it will no longer be accepting new orders for shark fin products in banqueting with immediate effect, under its "sustainable seafood policy".
Victory
And that is something of a victory, as Hong Kong being one of the global centres of the shark fin trade. Shangri-La said is also phasing out Bluefin tuna and Chilean sea bass, which are under the threat of extinction, at all restaurants within the year.
The announcement came two months after another Hong Kong-based Peninsula Hotels group said it would stop selling shark fin from this year, in a move hailed as a breakthrough for shark conservation.
Threat
The group said the decision was made in view of the threat facing the global shark population, which scientists believe are essential to the overall health of marine life.
About 73 million sharks are killed every year, with Hong Kong importing about 10,000 tons of fins annually for the past decade, according to environmental group WWF.
The campaign has also received a boost in Singapore, after French retail giant Carrefour and Singapore's largest supermarket chain NTUC FairPrice said they would halt sales of shark fin products in the city-state.