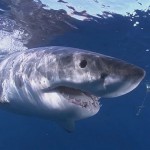 AUCKLAND (NEW ZEALAND)- The great whites that live in New Zealand waters seek relaxation in warmer climates as far away as Australia and New Caledonia. Sometimes they even take their holiday in tropical waters.
That's what scientists of the National Institute for Water and Atmospheric Research (Niwa) found out after tracking several sharks with tags placed on them. The data show interesting results on the distances sharks travel each season.
Tropics
While scientists knew great white sharks generally left New Zealand shores during winter, in June or July, the data has found in some cases they swim all the way to tropical waters such as Tonga, New Caledonia and the Great Barrier Reef.
One of the tagged sharks 4.4 metre-long great white named Ella was tracked from Stewart Island to New Caledonia in both 2009 and 2011. Another large great white shark, Phred, which was 4.8 metres long, was also tracked to Chesterfield Reef, in New Caledonia, in 2009.
Migratory patterns
The data showing their migratory patterns from years past had only just been downloaded off receivers set across Australia and the Coral Sea. It has provided the second year of stats on the movements of great white sharks in the Pacific area.
The scientists are hoping to be able to use the information to find out the size of the population of great whites in New Zealand waters, as well as narrow down the times they like to inhabit "hotspots" such as Stewart Island.
Many of the same sharks were seen every year at Stewart Island, indicating an "amazing ability" to navigate back to the same spot after travelling thousands of kilometres across open ocean.
Read more at Stuff.co.nz