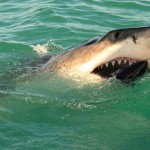 WRIGHTSVILLE BEACH (USA)- The waters off the North Carolina coast are famous for different shark dives, but rarely are there great whites swimming around. Yet a couple of friends out on a Thanksgiving fishing trip found their boat being bumped into by a great white. About 18-foot long. A great fishing tale to tell.
'After a while, when the shark started hitting the boat, it kind of makes you a little nervous,' boat captain John Watson was quoted as saying. "All of sudden you start hearing all the dun-dun-dun-dun-dun's." Captain Watson has fished for about 25 years off Wrightsville Beach, where the shark close encounter happened.
It was a bit like the Jaws film. The shark kept circling and got closer and closer, and then swam under the bow of the boat and hit it. A couple minutes later it came around to the boat, did a turn, and slapped the side of the boat with the back of his tail," according to Watson. 'You could feel the whole boat shutter.' It circled the boat for nearly 20 minutes.
According to the men, they were about 25 miles southeast of Wrightsville Beach when they saw the shark, which they estimate was at least 18 feet long and more than 4 feet wide. That's nearly equal to the size of their boat.
Is it a fisherman's tale or true? A CNN Report has footage of the shark.
Or see it here: