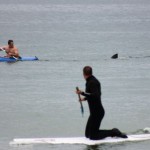 CAPE COD (USA)- A family filmed a great white just meters off their boat while on a fishing trip. The great fish was feasting on a seal carcass, but led to shock and awe for the family, as the video below shows.
This summer season has seen higher than usual great white shark activity off the eastern seaboard of the United States and especially Cape Cod.
Just before the busy July 4th holiday advisory warnings were issued to swimmers after several large 16-feet, 2,000 pound sharks were spotted off the coast of Chatham in Cape Cod.
And in early July an amazing pictured surfaced of kayaker Walter Szulc Jr, who looked over his shoulder to see a 15-foot great white shark following him as he paddled.
The great white shark was estimated at 12-14ft and was seen less than 100ft out in the water when it appeared behind Mr Szulc.
And at the end of July, Denver resident Christopher Myers was bitten on his legs July 30 while swimming off Ballston Beach in Truro.
That was the first confirmed attack by a great white shark on a human off Cape Cod since 1936 and panicked local residents.