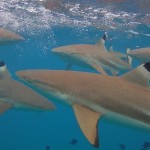 ISLAND BEACH STATE PARK (USA)- Imagine standing on the ocean's edge about to go in and then seeing dozens of sharks flying out of the water in a wild feeding frenzy. Beachgoers on Island Beach, in Ocean County (New Jersey) had this experience last thursday. One of them captured the feeding frenzy on video.
It became a YouTube sensation, where sharks can be seen literally flying through the air as they devour fish. Tom Lynch, the videomaker, called it a 'once in a lifetime experience'.
He first saw the sharks about a mile out. Only a few minutes later however, he says they were right in front of him, within 50 yards of the shoreline. Some of the sharks were flying literally 20 feet, sideways out of the water horizontally.
Lynch says there were easily dozens of sharks, if not more, feasting on menhaden. He placed his video on his own website AngryFish.tv.
The New Jersey Department of Environmental Protection (DEP) says the sharks appear to be blacktip or spinner sharks, if not both. The DEP says those types of sharks are more common to southern waters but that the ocean off the Jersey shore has been warmer than normal this year. So it should be a very dynamic, vibrant ocean will all sorts of species.
Lynch says the shark attack only lasted a few minutes, yet it's a feast for the eyes he'll never forget. The Department of Environmental Protection says there haven't been any additional reported shark sightings from local beachgoers.
Officials also say unless you see something similar happening near the beach, you shouldn't be afraid to go into the water.
Read more at KSDK.com. See the video below: