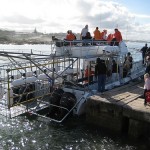 FOVEAUX STRAIT (NEW ZEALAND)- Dive operators in New Zealand say the Government has done nothing to keep people safe from cowboy shark tourism companies operating in the Foveaux Strait, despite repeated requests to take action.
Southern Aqua Adventures owner Mike Haines said on TVNZ that Maritime New Zealand was supposed to have got the operators together this year to form a code of practice for the shark-cage dive industry, but nothing had been done.
The shark-dive season begins next month and runs until June.
Cage-diving operators who work off the south coast are worried the unregulated industry could lead to cowboy operators coming to the Foveaux area and putting peoples' lives in danger because they do not know what they are doing.
Haines had obtained the Australian code of practice, but that was as far as he could go by himself, he said. "It is beyond my control, I can't do anything."
Shark Dive New Zealand owner Peter Scott said he had also been trying to work with government departments, such as the Conservation Department, Department of Labour and Maritime NZ, for the past three years to get some form of regulations in place, but with no success.
Read more at TVNZ