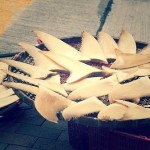 BRUSSELS (BELGIUM)- The European Parliament Fisheries Committee voted last week in "a puzzling and inconsistent manner" on a suite of amendments that form their response to a European Commission proposal to strengthen the EU ban on shark "finning" (slicing off a shark's fins and discarding the body at sea).
Votes on most amendments passed or failed by a narrow margin and produced contradictory messages that both reject and support loopholes that hinder finning ban enforcement.
The Commission proposed last year to end the special permits that allow fishermen to remove shark fins on-board vessels.  Landing sharks with their fins attached is by far the simplest and most reliable way to enforce finning bans.  Spain and Portugal are the only EU Member States that still issue such permits.
Ms. Patrão Neves, MEP from Portugal, has been using her role as Rapporteur to fight against adoption of the Commission's proposed improvements.  Today her attempt to widen loopholes in the finning regulation was defeated, but – in a contradictory move – MEPs adopted her proposed text suggesting exceptions for completely removing shark fins at sea.  In the end, most of her problematic amendments were rejected, but the lack of clarity in accepted language presents a threat to finalizing a strong finning ban.
"We will continue to urge all MEPs to promptly remove all confusion in Plenary and clearly endorse a strict EU policy against removing shark fins at sea, without any more exceptions," said Ali Hood, Director of Conservation for the Shark Trust, a founding member of the Shark Alliance.
Read more at Shark Alliance