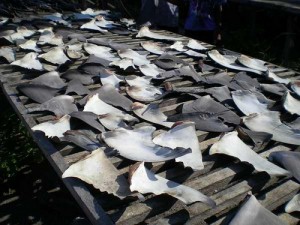 BRUSSELS (BELGIUM)- Good news for sharks in European waters. The European Union proposed a blanket ban on shark finning. Which means fisherman can't also bring sharks to shore to cut off their fins.
Loophole
That was the loophole in the current ban on finning. In this terrible practice, the fins are sliced off sharks, often while they are alive, and their carcasses dumped in the sea.
The European Commission presented draft legislation forbidding shark finning by all vessels fishing in EU waters, and all EU-registered vessels operating anywhere in the world.
The proposals aim to close a loophole in EU rules, which ban finning but allow fishermen to land shark bodies and their more valuable fins at different ports, provided they comply with a fin-to-carcass weight ratio of 5 percent.
Most lenient
Shark conservation groups have campaigned for years against the EU ratio, saying it is among the most lenient globally and allows European fishermen to dump large numbers of finned carcasses at sea each year.
"By closing the loophole in our legislation, we want to eradicate the horrendous practice of shark finning and protect sharks much better," EU fisheries chief Maria Damanaki said in a statement.
Under the proposals, fishermen would have to land all sharks with their fins attached, though they would be allowed to slice partly through each fin and fold it against the carcass, to facilitate storage and handling.
The draft rules must now be approved by a majority of EU governments in the European Council and lawmakers in the European Parliament before becoming law.
Significant benefits
Conservation Group Oceana is happy. 'A stronger ban on shark finning will bring significant benefits for shark fisheries management and conservation, not only in Europe, but in all the oceans where European vessels are catching sharks.' 
In 2009, EU fisherman landed more than 110,000 tonnes of sharks and rays worldwide, giving Europe the second-biggest shark catch globally behind India, data from the U.N. Food and Agriculture Organization showed. Between them Spain, France, Portugal and Britain account for more than 90 percent of EU shark catches, with Spain alone accounting for more than half the total.
China is the world's largest importer and consumer of shark fins, which are the main ingredient in shark fin soup, and can fetch up to 1,000 euros ($1,352) each. The EU is the largest supplier of fins to China. 
Threatened
Booming demand for fins has contributed to a third of all European shark species being threatened with extinction, according to the International Union for Conservation of Nature. Critically endangered species including the Portuguese spiny dogfish and the porbeagle shark.
As predators, sharks play a key role in maintaining the balance of marine ecosystems, but are particularly vulnerable to over-fishing because of their slow growth rate and small number of young. ($1 = 0.739 euros)