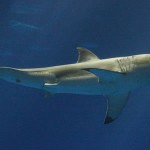 SACRAMENTO (USA)- Conservation groups Oceana, Center for Biological Diversity, and Shark Stewards filed a petition to the California Fish and Game Commission this week seeking to protect the US West Coast population of great white sharks, throughout their California range, under the state's Endangered Species Act.
The legal filing comes on the heels of a similar petition submitted to the National Marine Fisheries Service on August 10, 2012 seeking federal Endangered Species Act protection for this unique population of great white sharks.
California Endangered Species Act listing will provide the sharks with protections from key threats and funding for research to better understand the status and threats to this distinct population. New findings show that numbers of adult great white sharks off the coast of California and Baja California, Mexico are alarmingly low.
Read more at Underwater Times