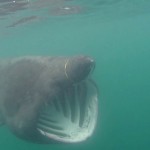 ISLE OF MAN (UK)-A basking shark in the waters off the British Isle of Man has become the new symbol in the campaign against littering. After seeing terrifying images of a basking shark with its nose tangled up in plastic in the Manx waters the Manx Basking Shark Watch (MBSW) is urging people to "think twice about litter".
The basking shark was filmed by a kayaker off the coast of Peel, who described it as "extremely upsetting".The sighting comes just two weeks after a grey seal was pictured in the same Manx waters with plastic around its throat near Kitterland.
The kayakker was in the water with two basking sharks and shot them on video. When he got home and watched the film he realised one of the sharks was stuck in plastic.
Basking sharks are the second largest fish in the world and feed on plankton. In the past two days, twelve basking sharks have been spotted in Manx waters along with Risso's and bottlenose dolphins, porpoises and a minke whale.
The Manx Basking Shark Watch has been carrying out specialist research into basking sharks since 2004, including cutting-edge tagging projects and has successfully tagged and tracked 18 basking sharks since 2007. The sharks are incredibly rare and seeing one in distress is very upsetting, so says MBSW. "We have been to observe its behaviour and it is acting in a very unusual manner."