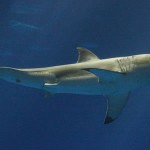 PERTH (AUSTRALIA)- Bad news for great whites off the western coast of Australia. The state of Western Australia will kill any great white that is seen near beachgoers.
'Just a fish'
So premier Colin Barnett announced this week in order to prevent attacks on humans. "We will always put the lives and safety of beachgoers ahead of the shark. This is, after all, a fish — let's keep it in perspective", he told ABC Radio Australia.
The decision is made after a number of attacks this year on the Australian west coast.
Domain of the shark
Thus far sharks could only be hunted if there had already been an attack on a swimmer and, even after a fatal attack last March, Barnett had ruled out changing that strategy, saying "the ocean is the domain of the shark and we go there with a risk always."
Watercraft
The new strategy includes more watercraft and helicopter patrols as well, but it was not welcomed by everyone.
The Conservation Council of Western Australia called it a "guilty until proven innocent" approach, The Australian reported.