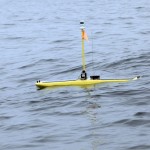 SAN FRANCISCO (USA)- Ever been in the water, wondering if there were sharks nearby? In Northern California soon your smartphone or tablet will tell you if you share the same waters as say, a great white. 
Gizmag reports that a team of Stanford University researchers lead by Prof. Barbara Block is deploying a fleet of static buoys and Wave Glider robots to turn the waters off the coast of San Francisco into a huge Wi-Fi network to track tagged fish and animals.
This will allow scientists to better understand sea life movements, but the project also includes offering a free app to the public that will allow them to track northern California white sharks on their tablets and smartphones.
The Stanford project takes this a step further with its "Shark Net" app, which taps into the network's live feed and sends users an alert on their tablets and smartphones when a white shark passes within range of a data receiver. The app is available for free from the Apple app store and, in addition to tracking data, the app also includes customizable maps, photos, videos, historical information and 3D interactive models.
In the future, Block hopes to expand the network to cover the entire North American west coast and track animals from salmon smolts to blue whales. Meanwhile, the ocean network will help improve understanding of the dynamics of sea life, provide a better idea of ocean populations and help improve the management of fish stocks as well as letting us know when sharks are in the neighborhood.
Read the full story on Gizmag. Or see the video below: