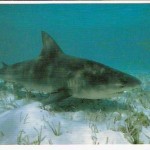 REDHEAD BEACH (AUSTRALIA)- Surfer Glen Folkard was attacked by a 10ft bull shark while surfing just off Redhead Beach, north of Sydney. The shark bit four pounds of flesh from the leg of the 44-year old surfer. When the shark let go to get a good grip for a new bite, Folkard grabbed his chance to get out.
While paddling back to shore he was followed by a dark shadow under the surface. Because of the loss of blood he had to fight for his life.
Read the full shark attack story on Daily Mail.