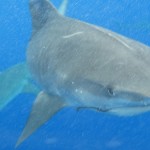 FORT LAUDERDALE (USA)— 2012 is looking to be a good year for Tiger sharks and three species of hammerhead sharks in Florida State waters. The US State  approved a ban on killing the four species of sharks.The ban, approved after a series of hearings around the state, applies to state waters only and takes effect Jan. 1.
Shark populations have plunged worldwide due to the Asian demand for shark-fin soup, a delicacy that can cost $50 a bowl. Scalloped and smooth hammerheads have declined by up to 98 percent and tiger sharks have declined by 65 percent to 97 percent, according to a commission staff report.
Catch-and-release
The Florida Fish and Wildlife Conservation Commission, urged on by shark conservationists, voted this month to allow catch-and-release fishing only for tiger sharks, smooth hammerheads, scalloped hammerheads and great hammerheads.
The commission's action comes a month after California Gov. Jerry Brown signed a bill outlawing the sale of shark fins in that state.
Leader in protection
Florida has long been a leader in the protection of sharks, enforcing a one-shark-per-person, two-sharks-per-vessel daily bag limit and protecting about two dozen rare species of sharks. The state also passed an early ban on shark finning, a practice now illegal in U.S. waters in which the valuable fins are cut from the living shark, which is tossed back into the ocean to die.