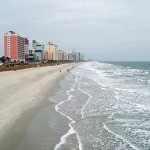 MYRTLE BEACH (USA)- Shark alert at Myrtle Beach, South Carolina. Four people were bitten by what may have been a shark off the same beach between 72nd and 82nd Avenue North.
The dispatch website for Myrtle Beach Police says the call about a possible animal bite came in around 1:20 p.m. Police said four individuals were bitten in the ocean. Possibly by sharks but they cannot know for sure until it is confirmed by a doctor or shark expert.
Knipes says three of the victims have been transported by EMS to the hospital and the fourth was driven in a personal vehicle. Their condition is unknown at this time.  Family and friends of the victim from 77nd Avenue North identify him as 16-year-old Jordon Garosalo from Canton, Ohio. They tell our news crew on the scene that Garosalo was bitten on the foot.
Earlier this month a surfer was bitten by a shark at Myrtle Beach, that normally rarely has problems with the ocean predators.