Dutch kids raise over 621.000 euro for sharks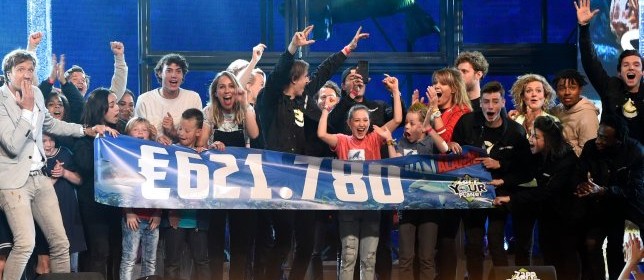 HILVERSUM (THE NETHERLANDS)- This weekend over 10.000 Dutch children came to the TV studios in the city of Hilversum to donate money for the protection of sharks worldwide in an 10 hour long TV-marathon. They raised a total of 621.780 euro.
In the past months the kids have been raising money amongst family, friends and neighbors, in stores, schools and at events as part of a WWF-initiative called 'Shark Alarm!'.
'Better protection is needed'
Famous TV-biologist Freek Vonk, who recently was bitten by a reef shark while filming in the Bahamas, received the money and is very proud of the result and amount that the children raised. "Better protection for sharks is very needed", he said. "I have seen with my own eyes dat sharks are being caught for shark fin soup and their meat on a way too large a scale. They have been swimming in our oceans for over 400 million years. If we don't do something now, they will have disappeared soon."
Help ocean protectors
Also Carol Phua, shark expert of the WWF, is exhilarated with the amount of money being raised by the 'Shark Alarm' action. The money will go to WWF's Pacific Shark Heritage Programme. "We can now buy patrol boats for ocean protectors, that safeguard protected ocean areas for the sharks. That's not all. In Asia, we are launching large campaigns to reduce the demand for shark meat. And we can further help with our breeding program to help restore shark populations here in our own North Sea. "