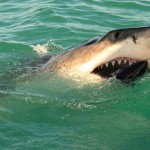 CAPE COD (USA)- Swimmers and boaters beware. The great whites are coming back to Cape Cod in the summer. While the flocks of tourists and summer residents begin their migration to the Cape so do the sharks. The municipalities of the Cod are cautioning swimmers and boaters to stay safe.
The sharks will number more than before, so say experts. They have been spending their winters in warmer waters and are now coming back. The great white sharks love Cape Cod in summer because there's plenty of their favorite food to eat — grey seals. They're more and more abundant due to decades of marine protection.
"It's that increase in the grey seal population that we've seen over the last four decades that's now drawing these sharks closer to shore. The café is open and these sharks have come here to feed," said Greg Skomal, a scientist at the Massachusetts Division of Fisheries to WCVB News.
Constantly advancing technologies allow scientists to determine when sharks will arrive and how long they'll hang around. Harpoon tags on three dozen great whites track their migration to Florida, South Carolina, Georgia, and even Bermuda, and then back north again.
See the full video news item on WCVB.