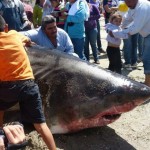 GUAYMAS (MEXICO)- A great white shark measuring nearly 20 feet and weighing 2,000 pounds — according to local reports — was hauled up Sunday by commercial fishermen in the Sea of Cortez near Guaymas.


The massive predator was dead when it was brought to the surface in a net deployed by two fishermen named Guadalupe and Baltazar, who were treated to the surprise of a lifetime when they saw what they had captured.
The shark was nearly as long as their 22-foot panga, or skiff. If, in fact, it measured six meters (19.8 feet), as one report stated, it'd be one of the longest white sharks ever recorded.
The fishermen towed the big fish two miles to the beach, where about 50 people helped drag it onto dry sand. They swore they had never seen a fish this big before in their lives. Even though on March 13 of this year, some of their fellow fishermen had also caught a great white, which had weighed 990 pounds."
Adult white sharks were once believed to be rare in the Sea of Cortez, or Gulf of California, but scientists now believe parts of the gulf might serve as a nursery for the species.
– For more on this story visit GrindTv.com